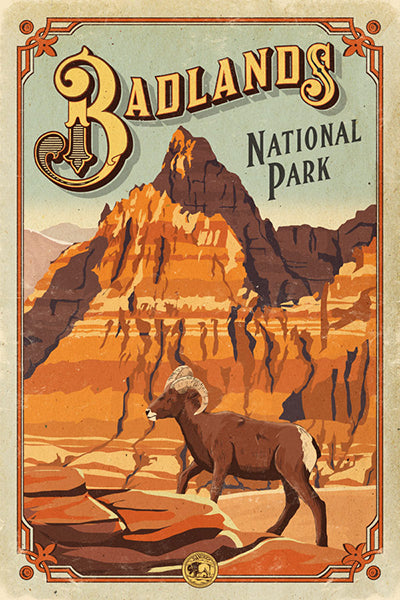 All those who visited these precarious spires and cliffs in South Dakota agreed: these are the bad-lands. Did you climb around the rock formations and fall in love with the number of bighorn sheep braving the heights? Celebrate Badlands National Park with this illustrated print featuring a proud bighorn standing before the inspiring colors of the rock city. The landscape breathes a rugged beauty into the hearts of its visitors, capturing imaginations and leaving all in wonder of the layers of time nestled here. Who knows, you might be the next to discover a grand fossil or two.

This poster is one of 59 prints we are making on our artistic journey to showcase the parks through a creative lens. It is the ninth official poster of our Centennial Poster Series in celebration of the 100th anniversary of the parks. The print embodies a Victorian style with its carefully crafted typography and illustration to remind viewers of the year 1916, when the park service was established.

Individually hand printed on heavyweight archival matte paper, the colors are rich and painterly. Upon your order, your poster is individually hand printed by our U.S. based partner who will send your print carefully packaged in a tube made of recycled materials. 

Add it to your collection of outdoor prints and other National Park art – looks great in all kinds of rooms from living room to a cozy library.
DETAILS

Your Badlands Poster is.
- Available in 4 easy to frame size options
- Individually hand printed and packaged with care
- Printed on heavyweight matte paper that feels durable and artistic
- Printed with high color inks
- Shipped in a sturdy kraft tube made of recycled materials
- 100% designed and printed in U.S.A.
- Frame is NOT included.
△△△△△△△△△△△△△△△△△△△△△△△△△△△△△△△△△

CANVAS printing is already available, your poster will be made into eye-popping art, carefully mounted on a wood frame.

A statement piece and artwork all in one, and the depth of the canvas adds a dimension to a room.

If you choose the canvas option for your poster, it will already include the canvas printing, wood mounting and the extra fee for flat shipping.

△△△△△△△△△△△△△△△△△△△△△△△△△△△△△△△△△
▲▲▲▲▲▲▲▲▲▲▲▲▲▲▲▲▲▲▲▲▲▲▲▲▲▲▲▲▲▲▲▲▲

FRAME (If you would like to have your poster framed please just add this item to your order and make sure to select the size of your poster, thank you ).

http://www.hikeanddraw.com/products/frame-your-map-or-poster

▲▲▲▲▲▲▲▲▲▲▲▲▲▲▲▲▲▲▲▲▲▲▲▲▲▲▲▲▲▲▲▲▲

The process is as easy as 1, 2, 3:
After your purchase, your order is processed and given personal attention: your scientific illustration is individually printed for you. Please allow 2 - 7 business days for this step.
Your print is carefully packaged and we send you a tracking number when it's time to travel. Shipping domestically takes 3 - 7 days. International 10 - 30 days. 
You unpack your unique print and welcome the National Parks to your home!
Thank you for visiting Hike & Draw, please contact us with any questions and we'll be happy to help.